Best for:
Medium and Large Businesses 
Kolsquare did not start out as an influencer marketing platform, though its pivot to become one was not some wild change of plans. We've seen many platforms born of the desire to latch onto a new trend from companies that don't even have marketing in their DNA and, more often than not in situations like these, that lack of expertise doesn't stop people from pressing on. We've seen platforms with origins in apps that were music recommendation engines, or retail shopping platforms.
Unlike these sorts of opportunistic attempts at getting into the influencer game, Kolsquare's pivot wasn't so much a pivot as it was a soft left turn. They were already well entrenched, and succeeding, in the marketing industry. Before it was Kolsquare, it was Brands & Celebrities, a marketing platform founded by former rugby player Quentin Bordage. Its central premise will sound familiar to you: B&C was developed to facilitate connecting brands with—you guessed it—celebrities for marketing purposes. At first launch, it was an agency focused on true and proper celebrities, leveraging Bordage's connections with other rugby players and athletes throughout the sporting world.
Why the focus on old-school celebrities rather than influencers? That's a simple answer: influencers weren't yet a thing when Brands & Celebrities first launched in 2011. It's not as if they made a conscious decision to avoid influencers. On the contrary, when the rise of influencers essentially redefined what a "celebrity" was, Brands & Celebrities was ready, willing, and able to add them to their roster. And when it turned out that brands were spending money on platforms to manage their influencers and influencer marketing efforts, the pivot to self-service seemed like a no-brainer.
Eventually, a rebrand was in order to better reflect the company's new reality. Sure, they were representing celebrities, but the expansion into the world of influencers meant the company name was leaving some parts of the equation out. Besides, their original roster of about 6,000 celebrities was now dwarfed by the more than 3 million influencers they'd added to their platform. In 2018, the rebrand was completed, changing their name to Kolsquare. KOL means Key Opinion Leader, a more inclusive term that covers the value of the talent on their platform. Maybe they have millions of followers, maybe they have just thousands—in all cases, these are people whose opinions matter to their audiences.
And Kolsquare is a platform that matters to the brands that use it. They must be doing something right.
---
Kolsquare Review:
---
Pricing
Kolsquare, like just about everything in the world today, is a subscription-based platform. Access is sold on an annual basis—no monthly subscriptions are available—and covers one user.
Discovery, $9k/user per year —

This gets you access to Kolsquare's discovery module only. You'll get unlimited searches, unlimited access to all KOL content, integrated CRM, the ability to add your own KOLs, and use of their Google Chrome extension.



Campaign, $18k/user per year —

In addition to the Discovery tools, you'll get Kolsquare's Campaign creation and management tools, the messaging module, KOL tracking, and a listening engine.
If we're being honest, the price of the Discovery plan is pretty steep. While Kolsqquare's search capabilities are impressive they're priced much higher than some equivalent search and analytics platforms we've reviewed.
But here's the weird part: given the Discovery plan's starting price, we were surprised at how reasonable the Campaign plan is. Yes, it's double the price of Discovery, but you're getting much more than double the functionality. And you're also getting a lot more features (and a much better made application) than with many of Kolsquare's end-to-end competitors.
---
The Details
When we first started reviewing these platforms, searching for influecners was largely done in a familiar, Google-y way: you type some words into a search bar and start going through the results you get. For many competing platforms, this method has evolved into variations on this theme—searching content itself, searching based on the audience, extensive filters—but Kolsquare has stayed true to the keyword based search. They've likely stuck with it because it works so well.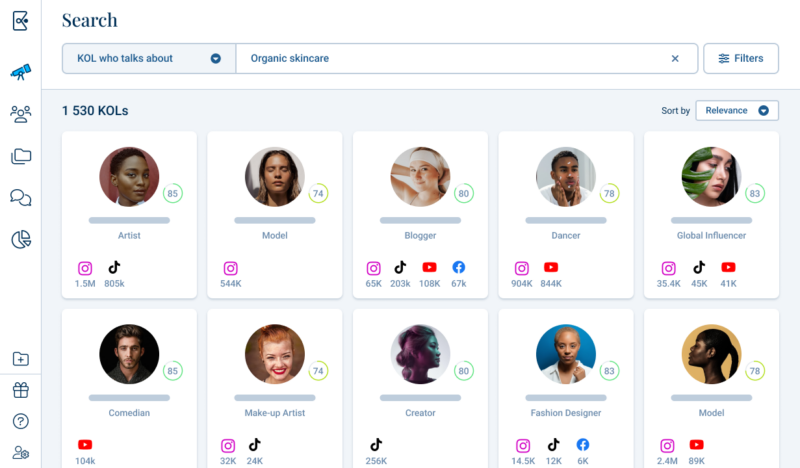 For one thing, it's well designed for humans. The algorithm understands what language you're typing in and adjusts accordingly—there's no need to tell it you want to search in Italian, for example—and the context of your search can be changed through the use of a dropdown menu. So, your keyword could be something that exists in a post caption, in a bio, or in a URL, for example. If you want to search for something that an influencer is talking about, there's even ore context you can specify. Putting an @ before the search term means the platform will look for mentions; hashtag searches yield hashtags. When you get the results, you'll see that they're highly relevant—and you can filter down from there, changing parameters for each (or all) of the supported channels and the kind of audiences you're targeting.
One last thing to note about Discovery is how good the audience data is: it's pretty good! We've seen more in-depth analysis, but we've also seen platforms that try and get by on follower counts and engagement rates. Kolsquare falls somewhere in the middle of these two end points, but definitely closer to the in-depth side. There's more than enough here to make good decisions. There's an audience credibility score, which is likely something you've seen before, to let you know how good or bad the makeup of the audience is (i.e. are there fake followers? bots?).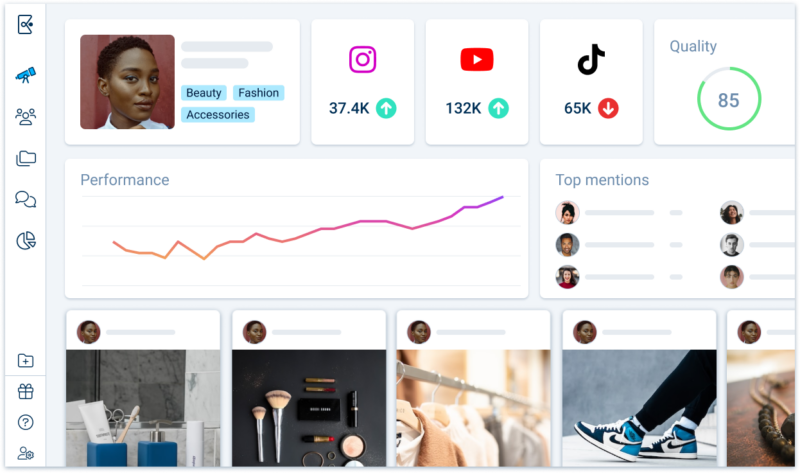 But there's also an audience reachability score, which gives a measure of how likely it is that various segments of the audience will see a post. People in the audience following less than 500 people, for example, are much more likely to see a post than people who are following a few thousand other accounts. If a high percentage of a potential audience follows low numbers of people, you know you have a higher chance of reaching more people.
Beyond that data, you'll also get the standard demographic information of age, language, location, and gender, along with some audence interests to round things out. What's very cool here, and extremely useful after a campaign, is that you can toggle this information between the influencers audience as a whole, or just the people who liked their posts. This is really valuable: when you get insights into a creator's audience, you're including everyone who follows that person—whether they've seen your sponsored post or not. Getting this intel on just the people who liked the post is much more useful, and getting this about people who like a post made on your brand's behalf is more useful than that. You know they've seen the post and you know they liked it. Getting information on this audience lets you know the kinds of people you should be targeting in the future, as they're likely to engage.
Another great feature is Kolsquare's campaign reporting. And, no, we're not getting ahead of ourselves by bringing this up ahead of setting up a campaign. The reason for this is that you can use Kolsquare to report on any influencer campaign—not just ones that you created. This is especially helpful for competitive research. Let's say you used the Discover module for searching for KOLs that your competitors work with, and you built yourself a pretty comprehensive list of them. You could easily group them together into a new "campaign," and tell Kolsquare to report on any content, between any two dates, that include any mentions or hashtags for this campaign. You'll then be able to get reporting for your competitor's marketing that's as in-depth as anything you'll get about your own.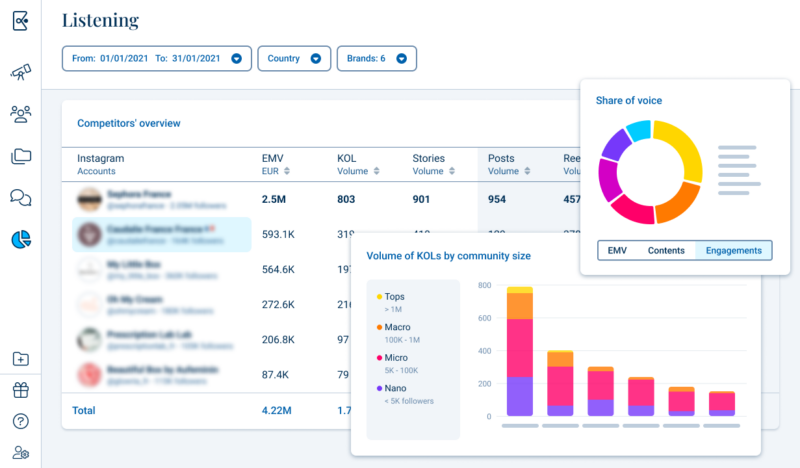 If you're setting up a campaign for yourself, you'll do it the same way—but with your own criteria. Getting a campaign started isn't quite as user friendly as we'd like to see it. Kolsquare does a great job of organizing all the influencers within a campaign so that you can get a quick idea of their status: Who needs to be briefed? Who's in negotiation? Who has already published? Influencers in your campaign appear under the appropriate heading, but there's no automation here. When you add creators to your campaign, they're not notified—they're just organized into the "To Brief" bucket. You'll need to send out campaign invitations and briefs (this can be done in bulk) after campaign creation—there's no invitation system that sends a brief. You'll also have to manually move all influencers throughout the campaign lifecycle. When you sent a brief to an influencer, you change their status from "To Brief" to "In discussion." If they accept, you then note that. Every step along the way requires manual intervention, which gets in the way of doing things at scale.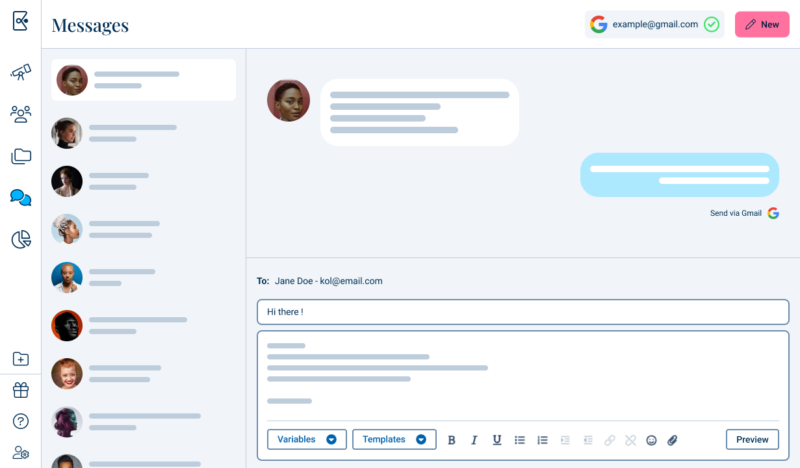 Still, once campaigns are running they have the ability to be very effective. An integration with Shopify means you can create personalized promo codes for each influencer, and get detailed insights into who was most effective at selling your brand and its products. Post campaign reporting is top notch, with great attention and detail focused on practical results. Kolsquare takes into account your budget and earned media value to give you hard numbers on ROI, while also telling you how you fared with impressions and engagement. Insights into the audience you reached help round out the picture, with psycho- and demographics, while an individual breakdown of the influencers you used tells you with specificity how every one performed.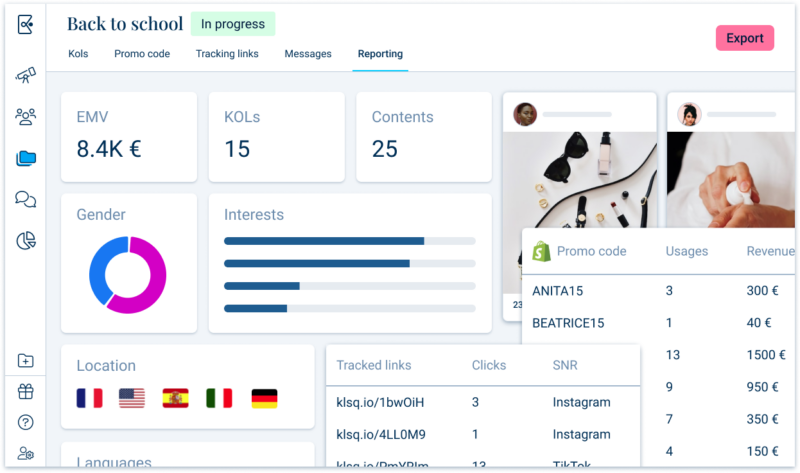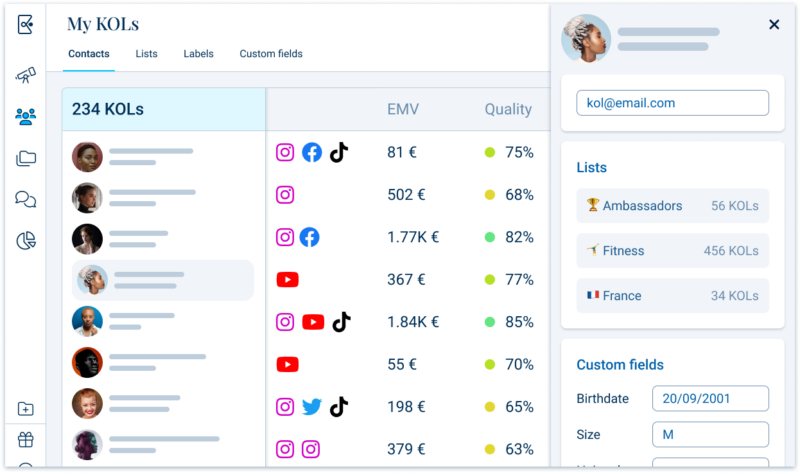 ---
Conclusion
Kolsquare is one of the top influencer platforms in Europe, but hasn't yet made a big splash in the United States. This is a shame, because they're one of the better platforms out there, with plenty of American influencers to be found. Kolsquare's superiority isn't found just in terms of its features, but in how pleasurable it is to use. It's a web app, but doesn't feel like one. The interface is easy to navigate, while the software is responsive and dynamic. You just don't feel like you're working within a web page. But beyond this, Kolsquare is also good at what it does. It was designed to put the power of influencer marketing in brands' control, so that they don't have to rely on agencies. That it was designed by an agency sounds like a joke, but, really, it makes all the sense in the world. A successful agency knows what software helps them succeed. In this case, they built it themselves, and the results were so good rebranded around it.
Features

Ease of Use

Reporting

Best for:
Medium and Large Businesses