Best for:
Brands and Agencies of any size
Overview
After 12 years in the military, Anthony Richardson developed something of a workout routine. He also developed a business idea based on that workout routine, and went right to work launching it after becoming a civilian once again. In launching his fitness business, Richardson sought to use the popular method of the day, influencer marketing, but quickly became frustrated with many aspects of the practice. It's a common story: entrepreneur launches business, entrepreneur tries influencer marketing, entrepreneur finds existing solutions lacking for his or her specific needs, entrepreneur develops influencer marketing platform.
Richardson's story departs from this norm in two ways. First, he didn't make an influencer marketing platform. He made two influencer marketing platforms. One is for creators, called Kitly, while the other is for brands and agencies, called Kitly Business. While the two are connected and form a little influencer ecosystem, creators can use Kitly to build media kits that help them land jobs anywhere, not just on the Kitly Business Platform. Brands and agencies will be able to discover these creators on the business side, and can also onboard their own influencers.
The second departure from the standard origin story is the reason for making his own platform. Where most people who build a platform are after a specific feature that nobody else has made yet, Richardson was after data integrity. This isn't to say that the data other platforms give you isn't valid; it's more that its origins are often muddy. Some platforms scrape data then extrapolate from there; some license the data from other analytics providers. Unless a platform is serving first-party data, its origins are shrouded in mystery. Richardson, who was also looking to advertise in more traditional outlets, couldn't help notice the difference. Tell a magazine or newspaper you want to advertise, and you'll get all kinds of data on the size and makeup of the audience, all backed by the Audited Bureau of Circulations. Without going into detail about exactly what ABC does, it's enough to know that having their stamp of approval on your data and measurements means something, and Richardson wanted that stamp for Kitly.
The end result is a no-nonsense, full-service influencer marketing platform aimed at brands and agencies that mean business.
---
---
Pricing
Kitly's advertises a single monthly subscription tier on its site, which gets you access to all the features of the platform. There are limits on how much you can use each feature, but Kitly will work with you to customize a plan if you need to go beyond the default. There's also a 30 day free trial.
Kitly Business, $99/month ($79.17/month if billed annually) — Add up to 25 creators, customize 25 media kits, manage 3 campaigns, generate 3 reports
---
The Details
Because the starting price point is so low, you might be quick to think that this is some kind of uni-tasking discovery only platform, or maybe it's just geared toward smaller businesses. Neither of these are true, though really a business of just about any size could find use (and afford) Kitly. And at first login, when you haven't yet build out your profile database or started any campaigns, it might look that way. Having seen a demo of Kitly Business in action, we got to see what it looks like in a production environment—and it's really nice looking.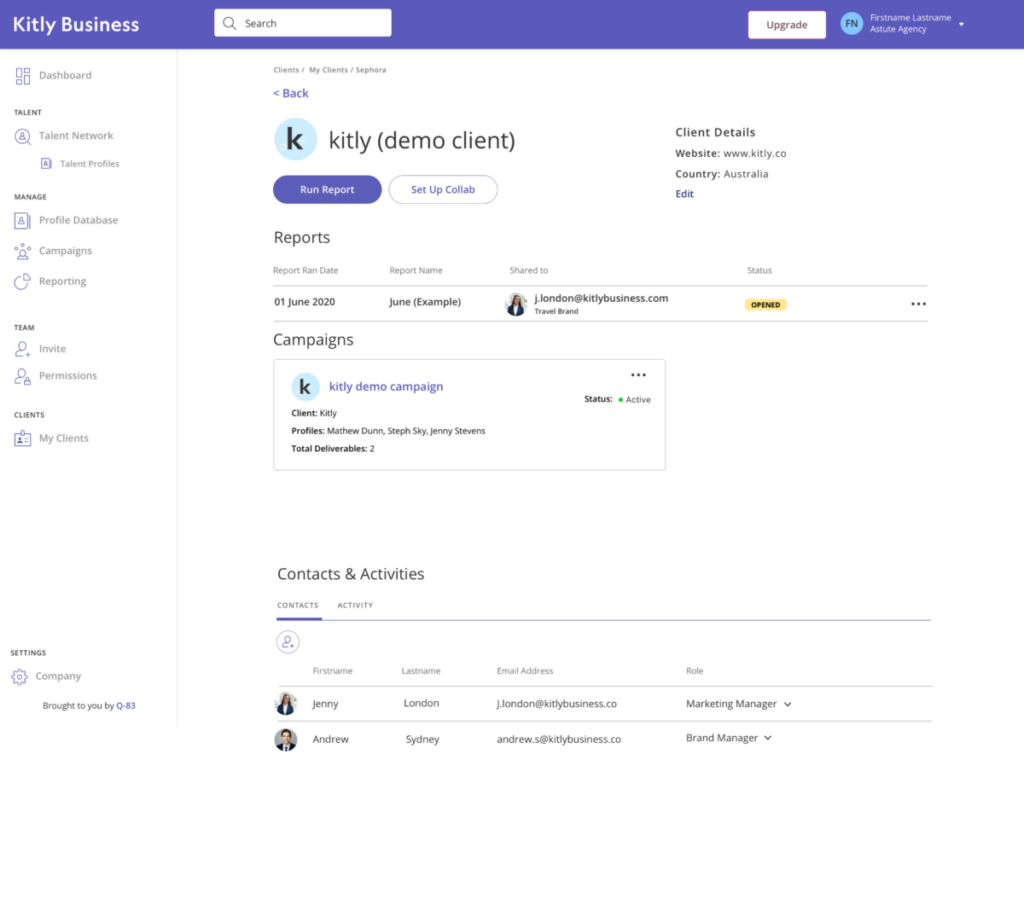 Note that "really nice looking" is only partially about the aesthetics, a mostly two-tone screen of white and an indigo background that's minimalist and easy to look at. For us, though, "really nice looking" means some thought has gone into what you're seeing: the layout is practical, with plenty of useful information organized neatly on the screen. The dashboard is customizable, too, so you're somewhat responsible for the widgets that appear, as well as the order in which they are placed. However you organize it, you'll quickly be able to dive into your talent database, campaigns, reports, and clients from here. You'll also be able to add new clients, manage your team members, build a recruiting landing page, monitor your own social accounts, and more. It's rare that we call out a dashboard as something worth praise, but Kitly deserves it.
The navigation menu is organized into logical sections: The Creator Network hosts the profiles of all the creators who've signed on to Kitly. The Manage section is where users handle administrative tasks for the own creator database (those they've activated or already worked with), manage campaigns, build custom media kits, and generate reports. The Team and Client sections are like a mini-CRM for internal users and customers, respectively. You can also, of course, adjust your Settings.
Searching through the Creator Network is easy—it's search just as we all expect it, with the ability to search for specific keywords while narrowing down the results using categories and filters. At first glance, the search screen looks kind of bare, but once you've clicked the "Show Filters" button things get robust. There are roughly 40 filters to help you pare down the list of 17,000+ creators on the platforms, and it's another nice design note, hiding the filters behind a button click. This helps to not overwhelm users with an over-busy main screen. Creators are flagged as independent or managed (if they're part of an agency), and from the page it's easy to add a creator to a campaign, your own internal creator network (called the Profile Database), or contact their agency.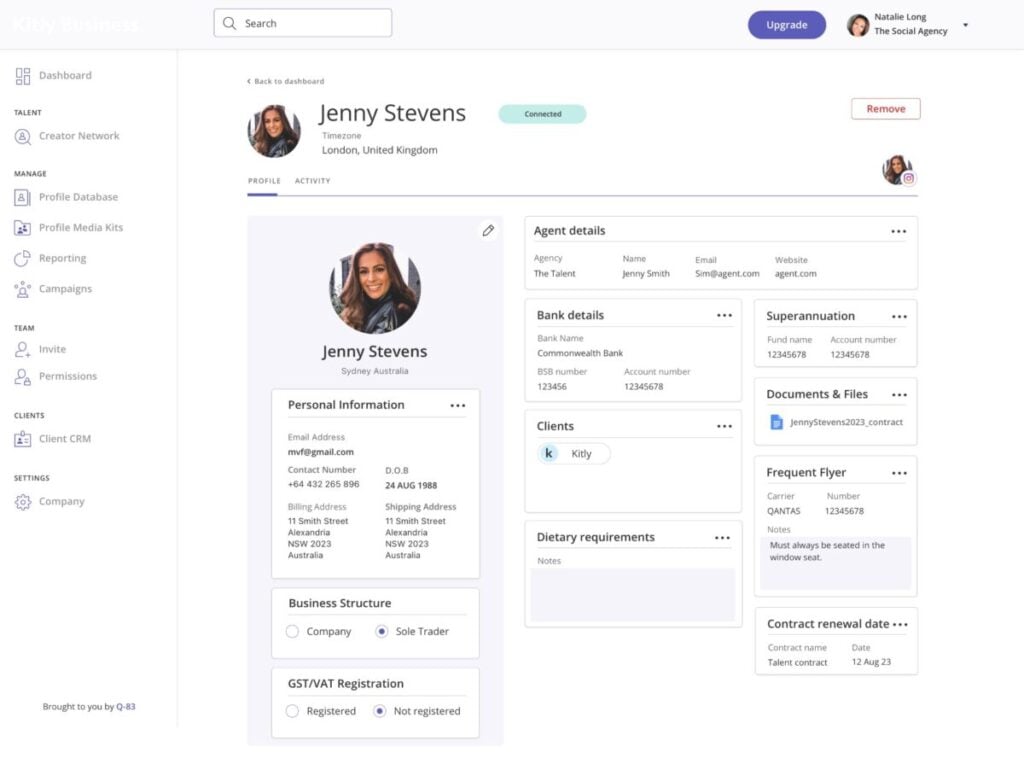 While searching for influencers, or if you've already added them to your database, you'll be able to see an abundance of data about them. You can see their media kit, of course, but that's going to be a greatest hits reel. You'll want more data to back up what you see here. Kitly makes it easy to parse out their performance across channels, and goes even further by breaking out stats on Grid, Reels, and Stories posts on Instagram. Special attention is also paid to recent trends around the account, notably the last 7 days of Reach, Engagement, and Impressions. Agencies will have no problem getting a holistic view of their creators, and can go on and tweak their media kits to really show their value to clients.
The individual stats/reporting on Instagram's Stories are of particular note. The first thing to point out is that Stories are cached on the platform—if you never look at it again it'll be gone after 90 days. But if the Story gets included in a report or a media kit, it's saved indefinitely, along with performance metrics. So, you'll see Reach and Impressions, Exits, Replies, Taps forward and back. One thing you won't see is Sticker Taps, but this is due to Instagram's API: No platform can report on this. Kitly employs a clever workaround, though, using a bit.ly integration to not only let you know how many Sticker taps you got, but also the location and device type.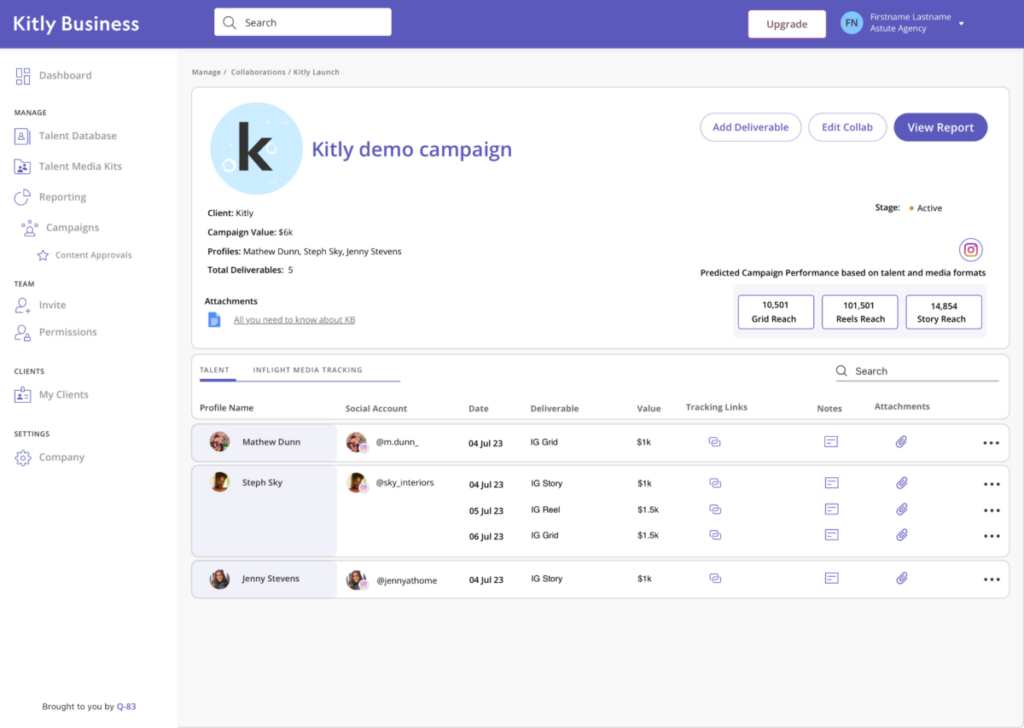 It's little things like the bit.ly/sticker hack that make Kitly Business such a pleasure to use, and make you realize that you're using something much more sophisticated than its $99/mo base price would have you believe. Other great touches: Create and assign tags to influencers, then when you create campaigns you can use those tags to bulk-add everyone suitable at once; creators receive a push notification on their Kitly app for seamless activation. The dragging-and-dropping of widgets to customize your dashboard is the same mechanism you use to create media kits and landing pages. When you're creating a campaign, the way the interface focuses on the step at hand draws your attention to it and gives new meaning to the phrase "guided process." The predicted performance of campaigns are based on real-world historical performance, not just a lazy sum of your activated creators' collective reach. The way reach is reported up until the end of the campaign, and then shows you how it keeps growing even after the campaign's been wrapped up, adds a nice dimension to reporting. There's a "Media Timeline" that's part of every influencer's profile on Kitly, used to give agencies an at-a-glance understanding of whether a creator is holding up her end up of a long-term or retainer deal. Every nook of this application has been carefully planned with—we're going to say it—military precision.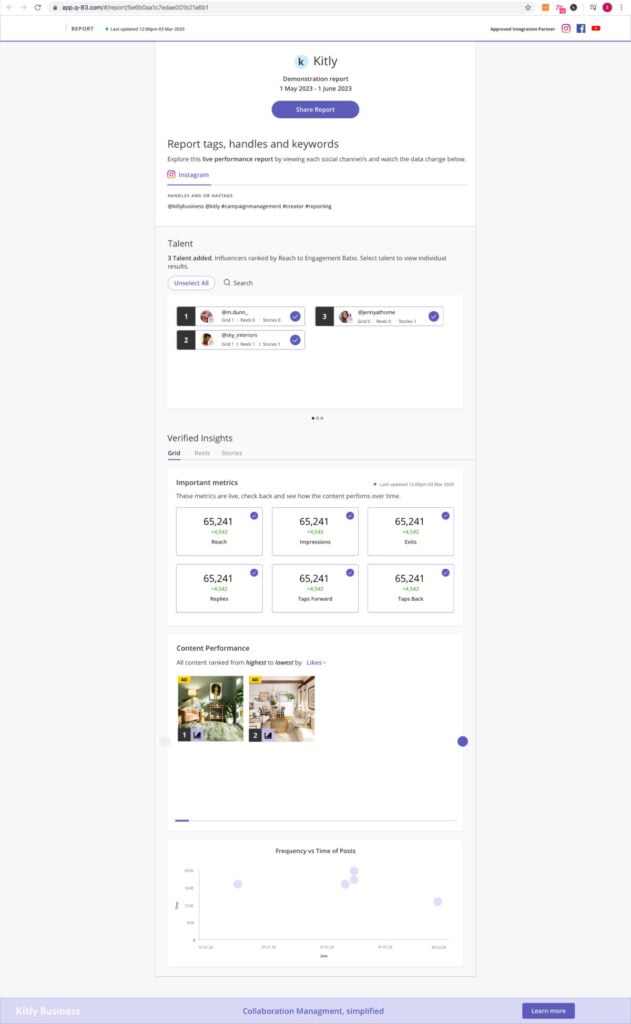 ---
Conclusion
Kitly Business offers a lot more than meets the eye, despite its affordable starting price. It's not just a basic discovery platform or marketplace. Though it was created with agencies in mind as the target users, businesses of any size can benefit. The platform's interface is thoughtfully designed, with a practical layout and customizable dashboard. Kitly allows users to dive into their talent database, manage campaigns, generate reports, add clients, and more. Searching through the Creator Network is straightforward, with robust filtering options to narrow down results. There's no shortage of data about influencers, including media kits, performance reports, and recent trends. The platform's attention to detail is evident across all the modules, and Kitly's reporting is thorough, even tracking performance after a campaign ends. For agencies that are managing multiple clients and campaigns, each with their own roster of creators, Kitly Business should be their tool of choice.
Features

Ease of Use

Reporting

Best for:
Brands and Agencies of any size