Though, it can be challenging to keep an active social presence without it taking over a sizeable percentage of your time and attention.
One of the major challenges is that social networks have different peak times when their users are most active. If you want to engage with as many of your audience as possible, you need to post at these peak times.
It would be near impossible for a business to make all of their posts "live". As a result, software providers have come up with solutions to make social media scheduling and posting more manageable. You can design and bulk schedule multiple posts at once using social media scheduling software platforms.
You can do this at a time that suits you and then use your tool of choice to deliver your posts at the best times. They also give you time to create and push more content. In this post, we review the top social media scheduling and posting tools.
---
Top 31 Social Media Scheduling Tools for 2023:
---
---
---
---
---
---
---
---
---
---
---
---
---
---
---
---
---
---
---
---
---
---
---
---
---
---
---
---
---
---
---
What You Need to Know About Social Media Scheduling Tools
Picture this: you're switching between multiple accounts, pages, and platforms, trying to get everything done for your brand's social media campaign. You painstakingly comb through each page on each platform, crafting posts and reviewing them, hoping to get a green light from your stakeholders. In between, you have to worry about your content's reach and engagement rates and whether it's reaching the right audience at the right time. Difficult, right?
With a social media scheduling tool, you're able to better manage multiple pages on multiple platforms, get the data and analytics you need to enhance your social media marketing strategy, and optimize your reach. With that in mind, here are key things you need to know about social media scheduling and posting tools.
What is a Social Media Scheduling Tool?
Simply put, a social media scheduling tool is an application that automates the planning and posting of your social media content. It lets you schedule your posts ahead of time, so even if you're not always active or online, you can still manage to get your posts up. While each tool's features can vary, it works by letting you upload your post to the app and determine a schedule for posting as well as the platform where it's going to go live. It also doubles as a content curation tool.
Why Use a Social Media Scheduling and Posting Tool?
A social media posting tool is a crucial addition to any business's or social media manager's marketing arsenal. Because it helps automate manual tasks, you can maximize your time and focus on other more complex issues or tasks.
More importantly, it's tricky to manage multiple accounts and pages while trying to reach your target audience. You may be able to do so using traditional marketing methods, but you may incur more expenses, get irrelevant data, and reach an untargeted audience segment in the process. With a social media scheduling and posting tool, you're able to plan and stay on top of things, such as launching a new product or promoting an event.
Furthermore, these tools can help your business become more consistent and stay true to your branding. Consistency is vital, especially when you're on social media. It delivers a seamless experience for both your patrons and potential customers and creates a unified identity and messaging for your business. By being consistent, you can stand out from the competition because people will know what to expect from you. For example, if your brand is consistently using a certain design or layout for your content, then people will know that this particular post is from you.
These tools let you review your posts, allowing you to check for consistency across different platforms without having to go through each page or platform one by one.
---
7 Key Benefits of Social Media Scheduling
There are plenty of benefits to using social media scheduling and posting tools. Here are seven of them:
Manage accounts and pages in multiple social media accounts
Let's start with the more obvious benefit—being able to manage multiple accounts using one platform. A dedicated social media scheduling and posting tool lets you monitor and manage your social media accounts without requiring you to log in to each platform manually. Before using a social media scheduling tool, you'll have to link all your social media accounts to it. This way, you can enjoy a single login process and get a unified dashboard where you can manage your Instagram, Facebook, and Twitter accounts.
---
Humans are prone to making errors and forgetting even the most important things. With a social media scheduling tool, you can plan for up to a month in advance. Plus, these tools let you reschedule your content, so if something unexpected or urgent crops up, you can adjust your content calendar accordingly. They also let you check and review your content before they're posted, mitigating the risk of any errors on your posts.
The bottom line is that these tools can improve your workflow and save your team from distractions. Schedule your content ahead of time without having to worry if they're live or reaching the intended audience. You won't have to check in periodically to monitor their performance, and in turn, you'll have more time to engage with your audience.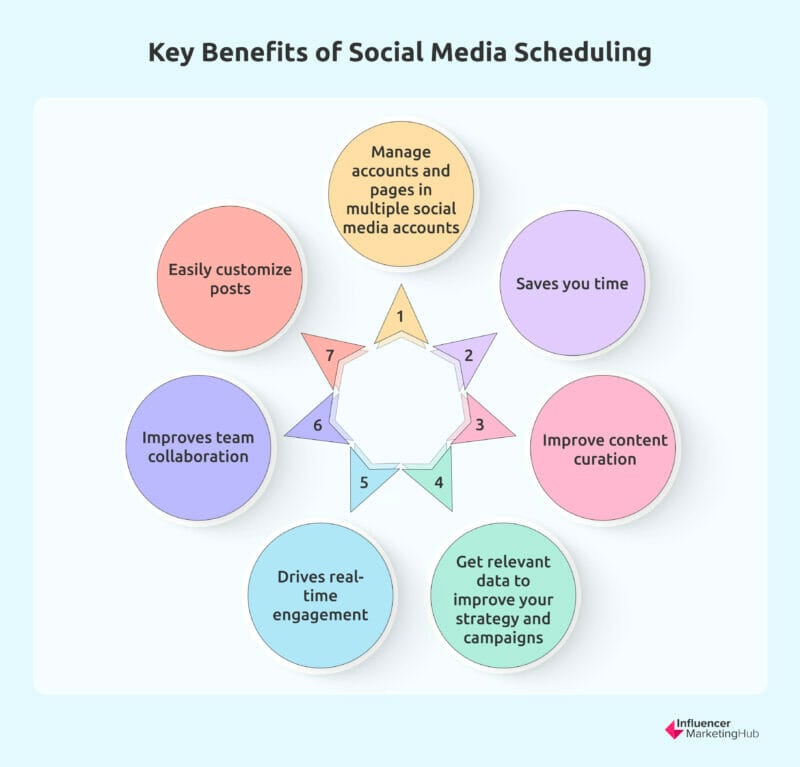 ---
Social media scheduling tools can greatly enhance your content curation process. The reality is that it's challenging to create and promote relevant, engaging, and high-quality branded content every single time. Using social media scheduling tools lets you curate content from other resources, giving you a convenient way to share content created by others on your social media channels. With this, you won't have to always come up with new content every time. You're also introducing your audience to more varied but still relevant pieces of content. Many social media scheduling tools have content curation features such as RSS feeds. Some even have integrations that let you find and share top-notch content relevant to your brand and message.
---
Get relevant data to improve your strategy and campaigns
One of the best features of social media scheduling and posting tools is they give you access to critical data through analytics. With analytics, you're able to measure your post's performance, determine which type of content your target audience often engages with, and what's the optimal posting time. By monitoring and measuring your content's performance, you're can take the necessary steps to improve not only the content itself but also your social media marketing strategy as a whole. Furthermore, many of these tools let you conduct market research and monitor other important components such as keywords and customer reviews or feedback.
---
Drives real-time engagement
Nowadays, posting consistently just doesn't cut it. You also need to up your audience engagement. Social media scheduling tools can organize and help you keep track of your conversations. Using your dashboard, you can easily search for conversations or respond to queries in real-time across different social media channels.
---
Improves team collaboration
These tools simplify collaboration. You won't have to monitor what each person in each team is doing. You can add members to your account and control their access to what's only relevant to their responsibilities. You can also assign which member or team should work on what aspect. For example, you can use your scheduling tool to assign a person to monitor conversations while another team monitors your analytics.
---
Social media scheduling tools not only help you manage your content across platforms but also let you enhance or customize your posts. Many tools have integrations with design apps and photo-editing apps, such as Canva and Giphy, allowing you to create immersive visuals that will appeal to your target audience.
---
What's the Best Time to Schedule Posts Using a Social Media Scheduling and Posting Tool?
The "best" time to schedule posts varies for each organization. For some, it can be one week in advance. For others, up to a month. How you schedule your content depends on your needs and how far you can manage to plan out posts in advance.
Planning is advantageous, but scheduling your content too far ahead also comes with risks. You may face unexpected events that will cause you to reschedule your content calendar or remove "irrelevant" posts entirely.
---
Can Small Businesses Use Social Media Scheduling Tools?
Yes, they can! For small businesses, social media can play a major role in their growth. By being able to manage your social media channels more effectively, you're more likely to build and maintain not only an active online presence but also an engaged following.
Small businesses often juggle many roles with only a limited number of resources, like manpower. Social media scheduling tools can help you streamline your business processes and workflows, save time and money, improve collaboration, and create the right content for your target audience, all on one dashboard. So, even with a small number of people, you can still produce high-quality content that appeals to your intended audience. If you're a small business that's looking to leverage the capabilities of such tools, make sure that you consider your budget and utilize their free trial offers. This way, you can get a firsthand experience of what it's like and see whether its capabilities can meet your needs. Make sure that the social media scheduling and posting tool you choose offers round-the-clock customer support.
---
Finding the Right Social Media Scheduling Tool 
With the sheer amount of social media scheduling and posting tools out there, it can be tough to find the right one for your organization. Here are some key factors to consider when finding the best social media scheduling tool:
Determine what your business needs and goals are and what challenges you're currently facing when it comes to social media management. Do you need an app that has advanced scheduling features, or do you want something that offers integrations for creating visuals? Do you need an app that lets you create a content calendar? What about monitoring conversations and analytics? Different tools offer different features. From there, identify the features you need to have in a social media tool.
To give you an idea of what features to look for, here's a rundown of key features to consider:
A good social media scheduling tool should make it easy for you to schedule and publish content across different channels, meet your goals (whether it's increased engagement, acquiring new followers, or something else), and get your brand out there. It should have a robust scheduling tool that will let you schedule and organize weeks' or months' worth of content in one go.
Another great feature to have is a queueing and rescheduling tool, which automatically shares posts even if you've lapsed on some content and allows you to insert evergreen content. You may also want to consider additional features such as post time optimization and post geotargeting. The former helps you automatically post content at optimal times to maximize audience engagement, while the latter lets you publish content for specific locations to ensure that you reach the right audience.
Engagement is vital to establishing growth. You need to engage your audience to maintain their loyalty and attract new customers. Your social media scheduling and posting tool should have engagement tools, such as an integrated social media inbox that lets you keep track of all messages and lets you do appropriate actions like replying to them.
It should also let you monitor keywords, allowing you to monitor conversations about your brand and engage your audience in a dialogue or identify what people are searching for so you have the opportunity to tap into trends and leverage that information for your campaigns.
Integrations let you do more with your social media scheduling tool. For example, an integration with Canva or other photo editing apps will let you directly add images or videos directly to your content in one place. Email integrations also let you seamlessly conduct email marketing using your scheduling tool.
Analytics tools enable you to gauge your performance and inform future actions or strategies. Reporting tools let you communicate essential information to all your stakeholders and team members.
For example, if your social media scheduling tool has an engagement report feature, you're able to monitor your performance when it comes to audience engagement, such as if you're frequently responding to messages or answering them in a timely manner.
A team reporting feature is also helpful to monitor large social media accounts. You're able to see which aspects are doing great and which ones need more attention or if you need to expand operations for that particular aspect, allowing you to make better strategies.
A trends report functionality will also come in handy. This lets you view hashtags or mentions about your brand or posts so you can tailor your future content accordingly and determine the kind of audience that engages with your brand online.
If you're running large-scale social media accounts, then it's highly likely that you're working with large teams. Collaboration features that let you assign tasks, get notifications, manage permissions, and detect overlaps or task collisions can streamline operations for each department and minimize the risk of team members having to spend more effort completing a task.
Additionally, you should keep an eye out for approval workflows, which can help streamline your scheduling process. This also gives you more control over the posts as you can choose to accept or approve them prior to scheduling.
CRM functionalities let you monitor audience interactions and derive more information about your audience, including customers. One useful feature that your scheduling tool should have is a conversation history tool that lets you check past conversations to better tailor your response to current interactions.
A good social media scheduling tool is customizable, so you can program it to fit your needs. While presets are good and can help make your work easier, they're not that helpful if you're unable to tailor them according to your needs and preferences. For example, your scheduling and posting tool should let you choose what you need to see on your content calendar, as well as how that calendar should look like.
With this in mind, you also need to look at a scheduling tool's capacity to make regular updates and fixes. Bugs can interrupt your operations, which is why it's crucial to find a tool that offers routine fixes for bugs. These updates can also add new features to your tool, making it more comprehensive.
Check whether your social media scheduling tool supports the social media platforms you're currently using. If it doesn't, you may end up switching from one scheduling tool to another, which can lead to additional costs and reduced efficiency.
Find a scheduling tool that's intuitive and easy to use. This way, you or your team won't have to spend a lot of time figuring out how to use it, so you can focus on creating quality content instead.
Check your budget. How much are you willing to spend on a scheduling tool? Many scheduling tools offer a variety of pricing options, and most of them offer free trials. Check if a certain plan has features that meet your needs or if you need an upgrade to access more advanced features. You can also check scheduling tools that offer free plans if you're working on a tight budget.
Automation functionalities are a great feature to have in your social media scheduling tool. Automation ensures that you get things done even if you're not online all the time. It also gives you more control over what you're posting, as well as your scheduling process. It lessens your workload, ensures consistent engagement on your social media channels, and expands your online reach. Being able to leverage automation can lead to better outcomes when it comes to engagement rates, sales, and brand awareness. Some of the scheduling tools on our list, such as Brandwatch, Monday.com, and Buffer have automation features.
When using a new tool, you don't expect everyone to get the hang of it right away. Find out if your provider offers resources like guides and training for new users. Also, check to see if they offer round-the-clock support and the available channels their customer support services are on so you can get in touch with them if you have any questions or concerns.
As your business grows, you may find that your needs will start to change. You'll need to determine whether your social media scheduling tool is scalable to accommodate your growth. Find out if your chosen tool offers a flat rate (regardless of your scale) or if it charges a separate fee for each user. If it's the latter, check to see if the total cost still fits within your budget or if you need to make allowances.
Make sure that the scheduling tool you choose offers a mobile app. This way, you can access it even when you're on the go. Check to see if the mobile app is easy to use and comes with all the features that its desktop or web counterpart has.
---
Which Social Media Scheduling Tool Should You Choose?
So, how do you choose the right social media scheduling tool for your needs? Aside from looking at features that are important to have, we've come up with separate categories for recommendations. These cover individual creators, SMBs, large-scale enterprises, eCommerce businesses, and more. In these recommendations, we've outlined the capabilities of selected scheduling and posting tools and how these can help your brand.
Recommended Social Media Scheduling Tools for Creators and Small Businesses
Creators and small businesses have several considerations when it comes to choosing the best scheduling and posting tools for their needs. We've looked at several scheduling tools that combine functionality, ease of use, and affordability, as well as their scaling capabilities.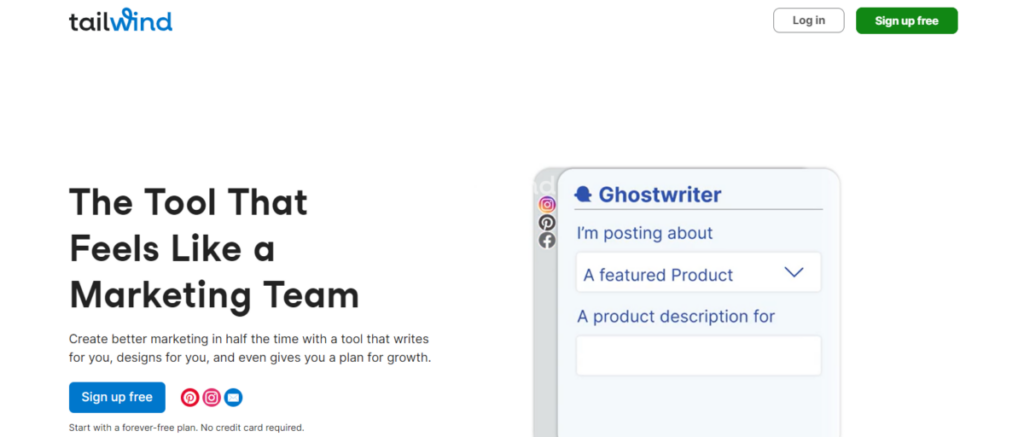 Tailwind is a robust social media scheduling tool that lets you create content, schedule posts, and streamline operations without breaking the bank. It offers a "Free Forever" plan that comes with basic features, such as basic analytics. However, this freemium version has limited capabilities. For example, you're only able to work on one account each for Pinterest, Instagram, and Facebook.
It does offer a Pro plan that starts at $12.99 per month, which comes with more advanced features, such as access to 200 Post Designs per month and advanced analytics, making it a good option for individual creators or businesses that are just starting out.
---

SocialPilot is another tool that offers plenty of features without the hefty price tag. Despite its feature-rich platform, its affordability and ease of use make it a great choice for creators and small businesses alike. You get content suggestions, analytics, and even white-label functionalities. It also has several useful integrations, such as Zapier, Canva, and Snip.ly. Its Professional plan starts at $25.50 per month (when billed annually) and lets you manage up to 10 social media accounts. However, this plan is limited to only one user.
---

PromoRepublic is a versatile tool that can cater to a range of users, from small businesses to enterprise-level businesses. This all-in-one local marketing platform offers a pricing plan designed for small businesses, which starts at $49 per month. With this plan, you can manage ten social media accounts and have access to key features like an all-in-one social inbox and local SEO.
---

Sendible is an easy-to-use scheduling tool that lets you manage different social media platforms in one place, including Facebook Ads, Google My Business, and YouTube. It also supports an array of integrations, such as WordPress, Canva, and Dropbox. It has separate pricing plans for creators (one user only) and startup agencies and brands (up to four users), starting at $29 per month and $89 per month, respectively.
---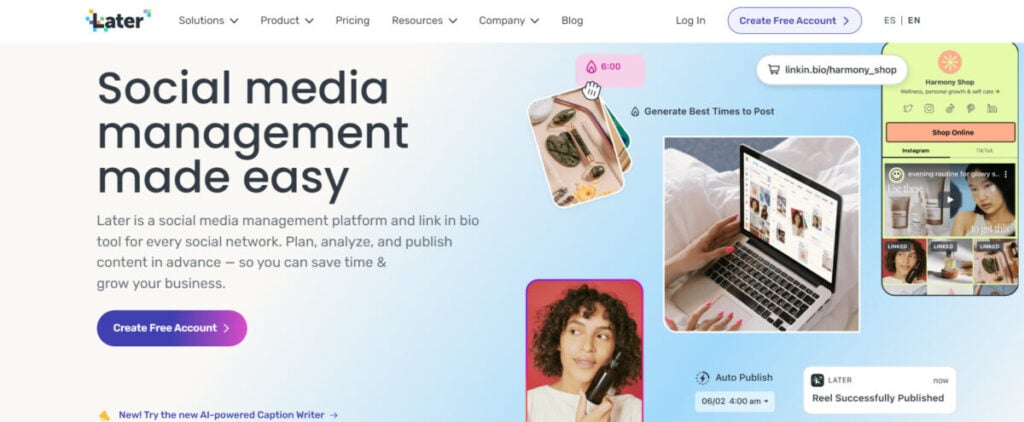 Later offers a user-friendly interface and visual scheduling functionalities. If your business is growing, you can upgrade to its Growth plan, which starts at $40 per month.
---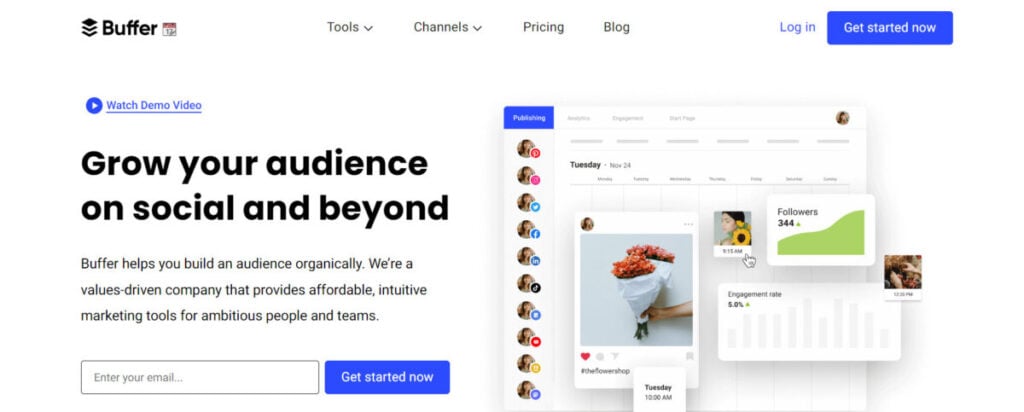 Buffer is a versatile social media scheduling tool that lends itself well to smaller-scale operations and individual users. It also offers a free plan that comes with support for various channels, including LinkedIn, TikTok, Facebook, and Instagram. The free plan also gives you access to a limited number of planning and scheduling tools, integrations, and customer support.
Note that the free plan doesn't give you access to analytics, insights, reporting tools, and functionalities like engagement and team management. You can upgrade to Buffer's Essentials plan, which starts at $6 per month per channel. If you want to add more channels, be prepared to shell out $6 per month for each additional channel.
---

Hootsuite is an immensely popular social media management tool that also works well for small businesses and individual users. With a free account, you can manage two social media accounts and five scheduled messages. Want something more powerful? There's the Professional plan, which goes for $99 per month. With this plan, you can manage up to 10 social accounts, schedule unlimited posts, access an integrated inbox, and more.
Here's a table outlining some of these tools' useful features for creators and small businesses, should you opt for a free plan or starter plan if the freemium version is unavailable:
---
Recommended Scheduling Tools for Medium-Sized Business
When it comes to social media and social media scheduling tools, medium-sized businesses want something that can help them reach their goals, expand their reach, nurture their brand image, and boost brand awareness without necessarily having to resort to more expensive options. Additionally, much like small businesses, medium-sized businesses are looking to reach the right audience.
With this in mind, having a scheduling tool that lets you manage your posts, get insights and analytics, generate reports, and monitor keywords can help you meet your online goals. Below are some of the social media scheduling tools that medium-sized businesses may find useful: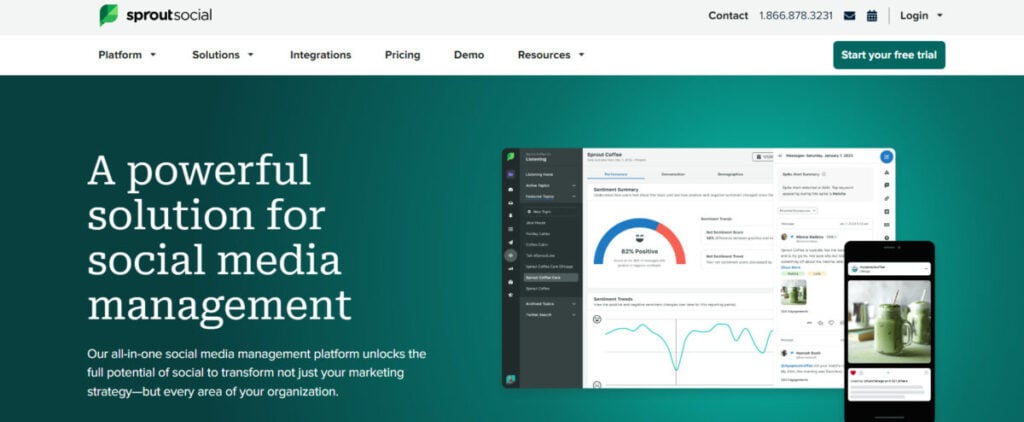 Sprout Social is a great scheduling tool to have if you're running a small agency or a medium-sized business. With its simple, easy-to-use platform, you get a user-friendly interface that lets you draft and schedule posts, monitor ratings, respond to reviews, keep track of profiles, keywords, and locations, and access group, profile, and post-level reports, as well as CRM tools.
Its Standard plan, which goes for $249 per user per month (billed annually), has all these features and more. If you want to get analytics and deeper insights, you can upgrade to either the Professional or the Advanced plan, which goes for $399 per user per month and $499 per user per month, respectively.
---

If you want a social media scheduling tool that also offers competitor analysis functionalities, then Agorapulse is a great option. Similar to Sprout Social, it's easy to use and offers quick customer support for its paid plans.
Its pricing plans are also designed for growing teams, making it a good choice for medium-sized businesses. It offers a freemium version, which lets you schedule a limited number of posts, monitor ad comments, and get access to its Agorapulse Academy and a Facebook ROI calculator.
If you want something that's a bit more powerful, you can go with its Pro plan ($79 per month when billed annually), which is designed for smaller teams. If you want an option that can handle your growth, its Advanced plan ($119 per month when billed annually) is also a great alternative. With the Advanced plan, you can add up to 20 social profiles and two shared calendars. Note that corresponding fees apply with each addition.
---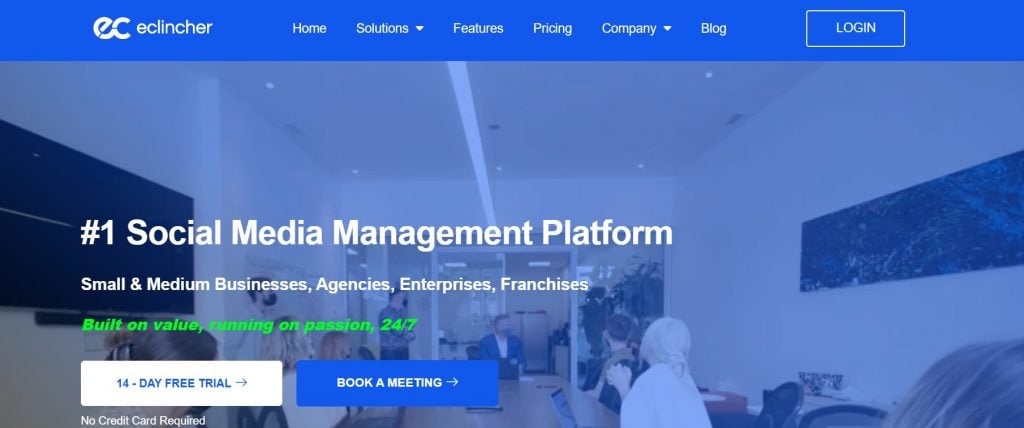 While eclincher is designed for a variety of users, be they agencies or franchises, it's also one of the best solutions for medium-sized businesses. With eclincher, you can access a range of tools that will let you publish and schedule posts, manage an integrated visual calendar, monitor keywords and hashtags, engage with our target audience in real time, and more.
Moreover, eclincher helps you protect your growing brand and online reputation with its reputation management tools and access to 24x7 live chat support. It doesn't offer a freemium plan, but you can get a 14-day free trial. You can also opt for its Basic plan ($65 per month), which can accommodate one user and up to 10 profiles. Meanwhile, its Premier plan ($175 per month) can accommodate three users and 20 profiles. You can also go with its Agency plan ($425 per month), which works for six users and up to 40 profiles.
It's worth noting that even with its Basic plan, you can already get plenty of useful features, including analytics reporting, team collaboration and post approval, and post scheduling functionalities.
---
Enterprise-Level Scheduling Tools Worth Trying Out
While they're already operating at a relatively larger scale, enterprise-level businesses still need to bolster their online visibility, keep track of key metrics, and manage potential risks. Given their scale, they're likely to run more social accounts and multiple campaigns at the same time. To help you better manage your online presence, here are a few enterprise-level social media scheduling tools that you should check out: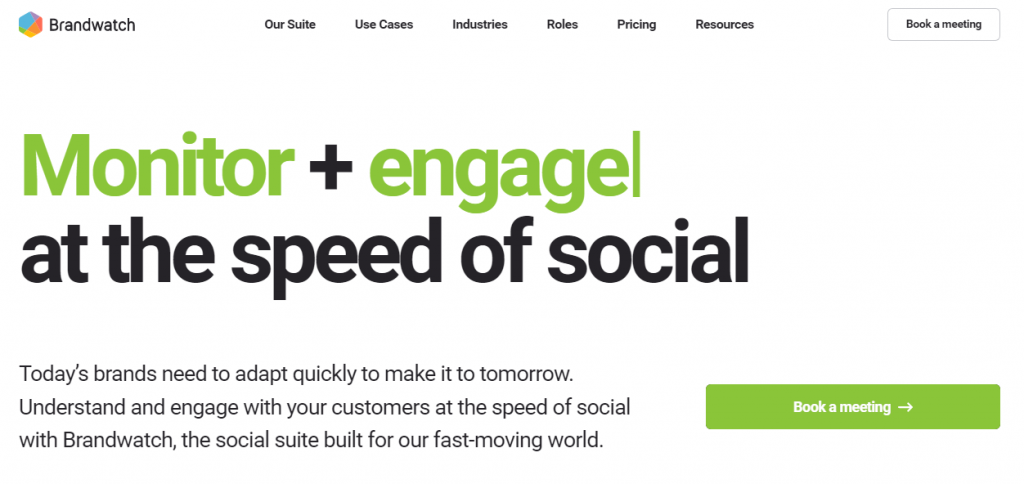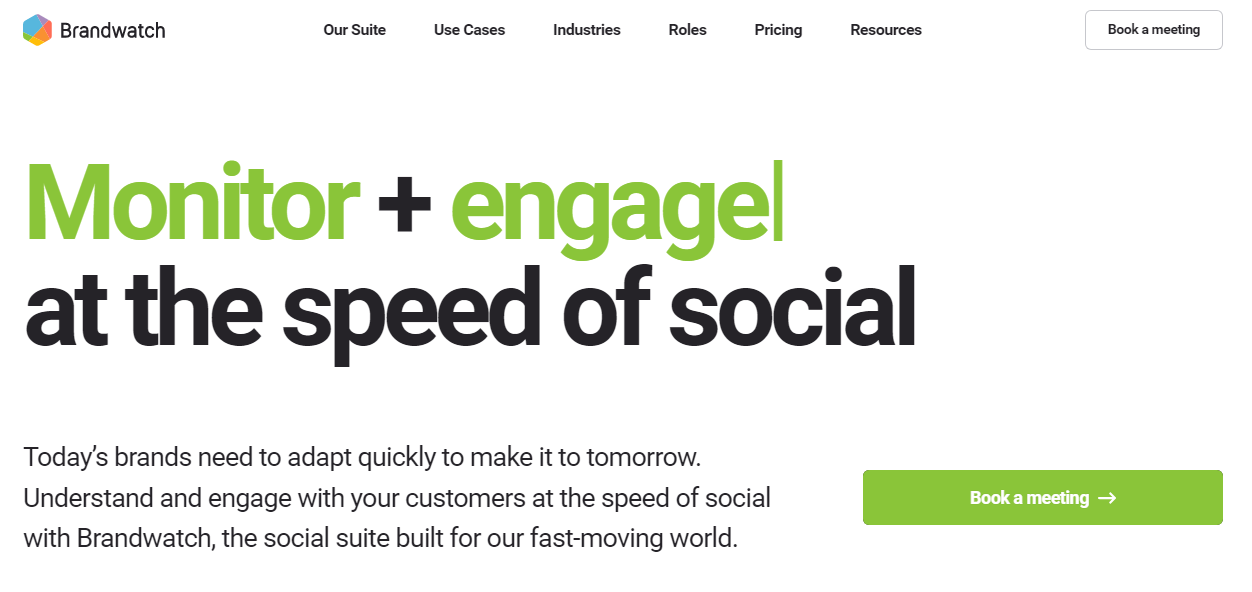 Designed as a tool that can keep up with our rapidly-changing world, Brandwatch lets you access an extensive archive of consumer opinion, leverage cutting-edge AI to discover trends, manage workflows and approvals, and protect your brand reputation, among other capabilities. Its enterprise-level solution offers a full product suite that lets you manage multiple social media channels, access a centralized social CRM, monitor your brand, and use benchmarking tools to measure your performance.
---

Hootsuite's Enterprise plan gives you all the features in its Team and Business plans without all the limitations. You can get ad campaign management for up to 10 ad profiles, employee advocacy features for up to 25 employees (free), team productivity reporting, and message tagging. It also lets you connect and manage up to 50 social accounts all in one place.
---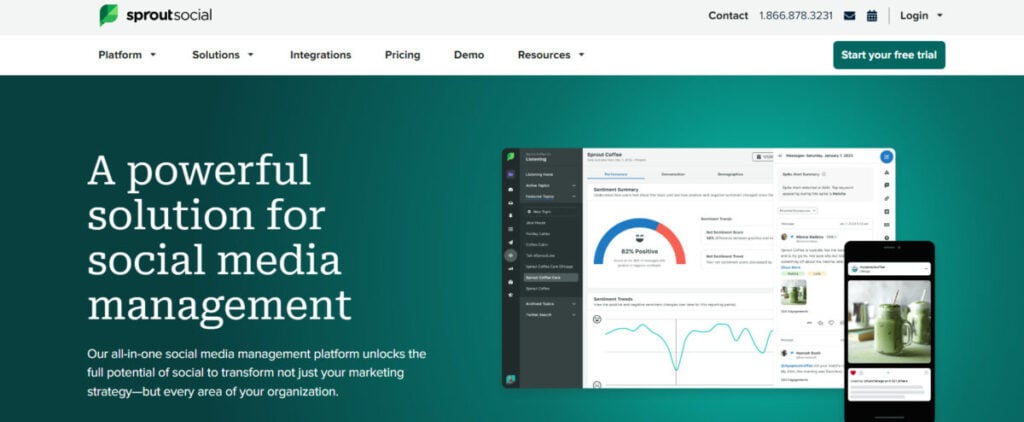 More than being just a social media scheduling and posting tool, Sprout Social also works as a powerful social media management tool for enterprise-level businesses. With its enterprise-level solution, you can conduct competitive analysis, trend analysis (Twitter keywords and hashtags), create automated chatbots, and access social CRM tools. When it comes to publishing and scheduling, you get media integrations, a campaign planner, social commerce tools, social listening tools, and employee advocacy solutions.
---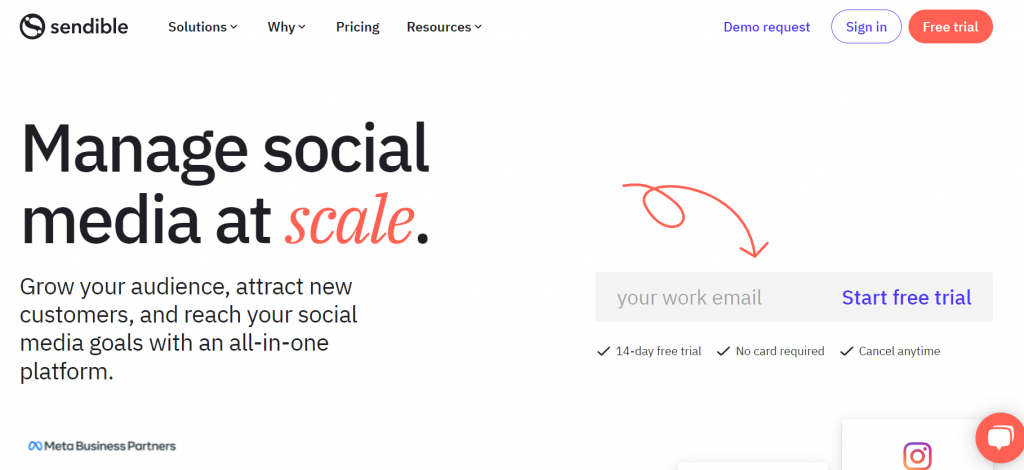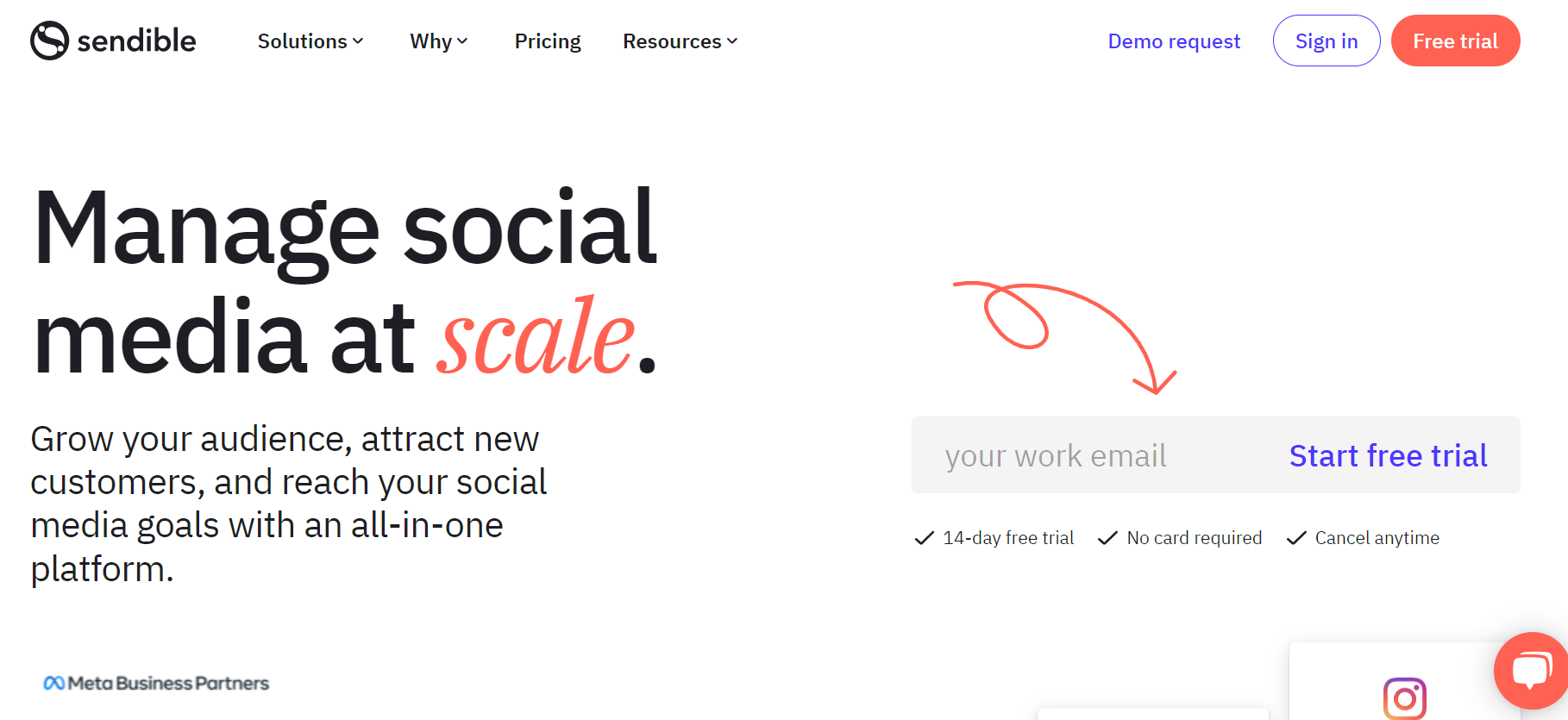 Sendible's Expansion plan for large teams and agencies lets you manage your social media channels at scale. With it, you can connect up to 15 users and 105 social profiles. You'll also be able to use cloud integrations and get images from your Google Drive or Dropbox account. What's more, you can schedule up to 500 posts and use smart queues for 120 posts. You'll also be able to customize access to each team member's dashboard, share live reports, customer success onboarding and training, and a dedicated customer success manager.
---
Social Media Scheduling and Posting Tools for eCommerce Businesses
eCommerce businesses will also benefit from using the right social media scheduling tool, which can help them oversee social activity and conversations about their brand and engage with customers and leads. This list includes some of the scheduling tools that work well for eCommerce businesses:
If you're running an eCommerce business, chances are you have a Twitter account. TweetDeck lets you manage different timelines, monitor competitor mentions and timelines, and monitor trending tweets. It also lets you schedule tweets and establish alerts for brand mentions.
---
SocialOomph works for both individuals and teams. With it, you can autopost what's on your queue, schedule content, upload posts in bulk, and prevent post flooding. It also lets you craft social media posts and comes with an optional keyword filtering feature. Whether you're running your online business solo or working with a team, SocialOomph can help you streamline your workflows.
---
CoSchedule lets you optimize your eCommerce marketing with its suite of social media management tools, which include a marketing calendar and a marketing suite. The former offers great flexibility with its drag-and-drop interface. Its pro version lets you automatically assign repetitive tasks, access advanced social publishing features, and bolster real-time collaboration with different teams. Its marketing suite offers four organizer solutions—calendar, content, work, and asset—all of which are designed to help you optimize your eCommerce marketing strategies.
---
If you want automation, then MeetEdgar is an excellent choice. With MeetEdgar, it's possible to automate several major functions, such as your scheduling process and how you repurpose your content. Perhaps one of its best features is it lets you track A/B test variations, so you know what works best with your target audience on platforms like Instagram, Facebook, Twitter, and Google My Business.
---
Social Media Scheduling Tools With Multi-Platform Support
A good social media scheduling tool is capable of supporting most, if not all, major social media platforms. Here's a quick look at some of the scheduling tools that support a broader range of social platforms (6 or more channels supported):
Channels and Social Media Integrations Supported
---
Best Social Media Scheduling Tools for Limited Budgets
Scheduling tools can get very expensive, depending on the plan you go with. The good news is several social media scheduling tools offer a freemium or forever free option. Note that while these services are free, they have very limited capabilities. Keep this in mind if you're looking for a solution that can accommodate your growth. Most of these scheduling tools do offer upgrades and let you change plans at any time. Check out the social media scheduling tools that let you get started for free:
      Buffer
      TweetDeck
      Hootsuite
      Planoly
      Tailwind
      Later
      Crowdfire